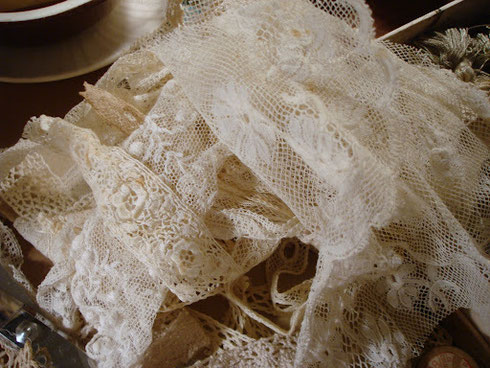 Lace is the most exclusively feminine fabric I can think of.  In my mind, I see images of Baroque fashion fantasy—of elaborate ruff collars and costume petticoats spilling onto marble floors at Versailles.  Lace is also romantic and demure, like a Victorian bridal veil, and at the same time, erotically charged and revealing—as in skimpy French lingerie.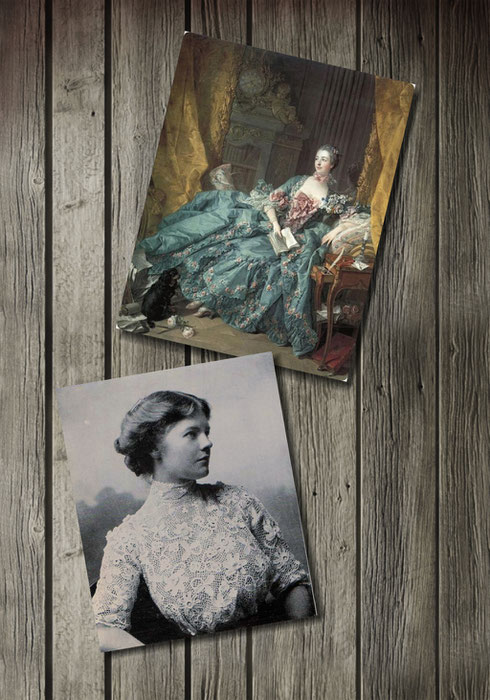 Lace is a handmade wonder, and yet can mimic the beauty of our natural world. "I consider lace to be one of the prettiest imitations ever made of the fantasy of nature," wrote Coco Chanel.  "Lace always evokes for me those incomparable designs which the branches and leaves of trees embroider across the sky, and I do not think that any invention of the human spirit could have a more graceful or precise origin."  [April 29, 1939]  Graceful and precise--yes, indeed!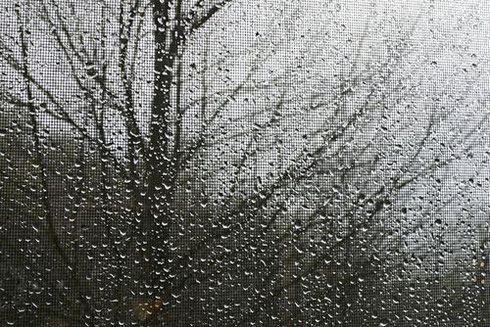 Or, think of it this way: lace is as much about space between the threads as it about the threads themselves. It is about what the material covers and what it reveals beneath. What does the revelation of our bare bodies under the exposed pattern of lace say about who we are on the inside?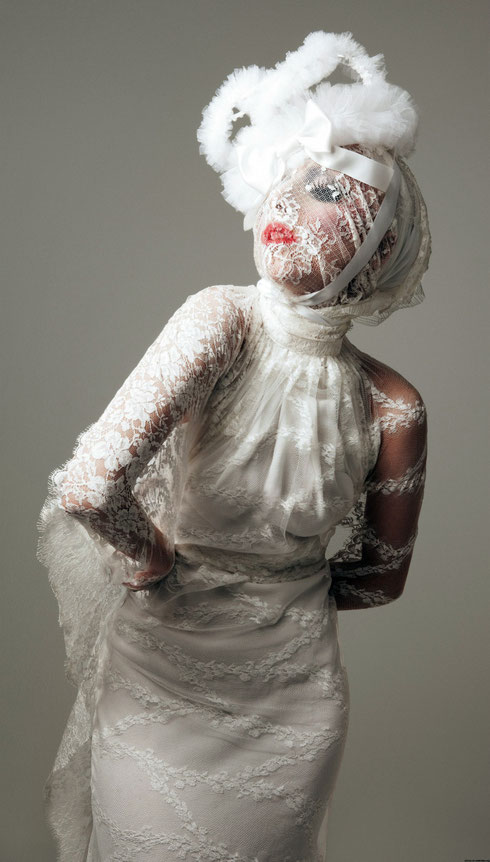 I feel that lace is also about tradition [I conjure up images of Flemish grandmothers bent over their crochet hooks]. But by showing what lies beneath clothing--our skin, our deeper selves--lace is always immediately relevant and contemporary to our bodies and culture. [I imagine now Lady Gaga's many lace fashion incarnations in various stages of undress].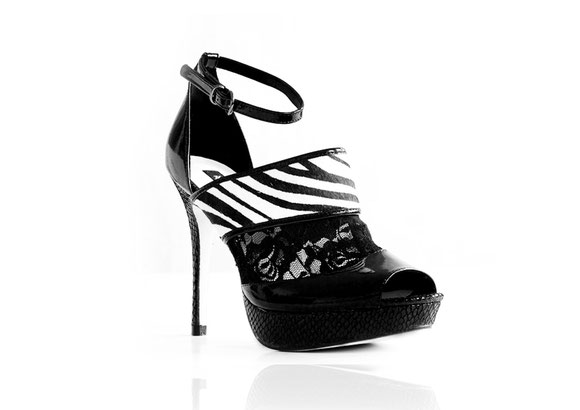 As a designer, I love all the ways lace can be used high and low, top and bottom. 
When I was working on my first collection, I spent a good deal of time searching out a black peek-a-boo lace to be used in the design of my "La Stregha" shoes. At that time, I was inspired by a certain 1940's vintage silhouette, and I was happy with the "Old Hollywood" looking results.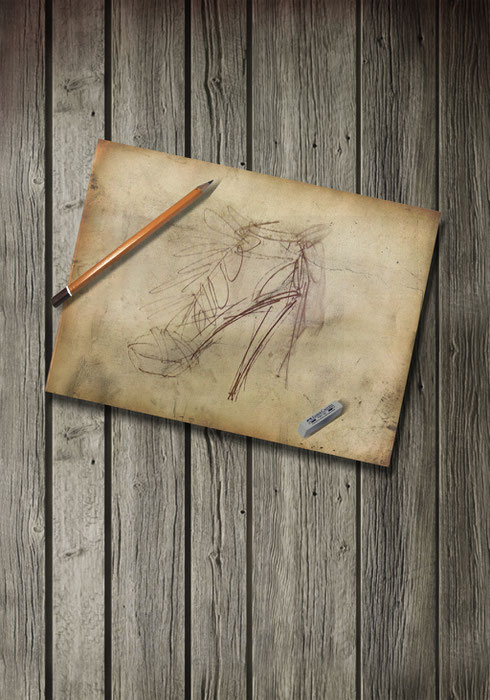 But when I started working on new designs, I got interested in lace in a rockabilly way—sort of Madonna in the early 1980's with ripped stockings, lace corsets worn on the outside of garments with combat boots, and bangles up every arm and on every ear.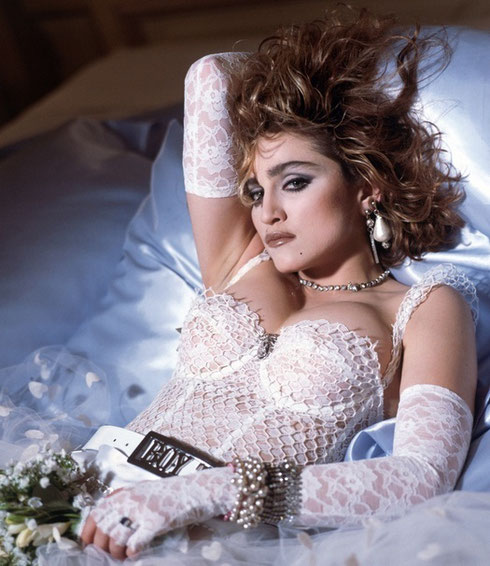 I would characterize her approach to dress at this time [and I mean the Like a Virgin (Madonna)period] as a romantic, less stark version of the "punk" aesthetic, but still hinting at romanticism and flaunting eroticism too. It was very much about lace. Gloves. Tied up in the hair. Shredded at the hemline. This aesthetic was my initial inspiration for a new pair of Zack Lo Shoes.
Thinking later about Coco Chanel's organic approach to lace, I began doing cut outs on vintage black lace.  I hand-cut tracery into the pattern.  I cut out negative space—a kind of version of Madonna's ripped stockings in the fabric.  I was using my scissors to really explore and understand the texture and personality of the fabric.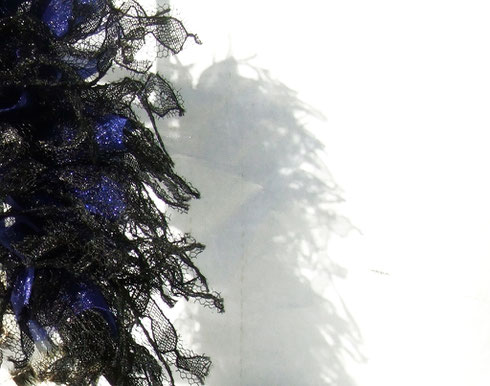 Next I stitched up the lace into a gather and made a couture embellishment.  I added it to the front of my signature "Bumble Zoo" zebra skin stiletto sandals [No fur this time!].  I really liked the effect, and the shoe now called "Tarantella" was born.  To make it all a bit more fancy, I added black ribbon to the backs to  look like the cinch ties on a corset.  So went my thinking.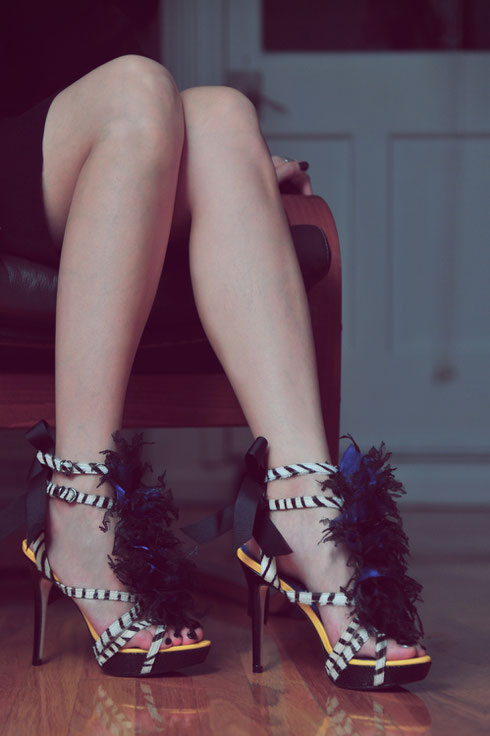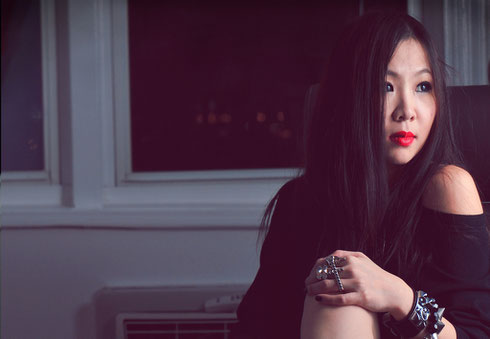 When I showed "Tarantella" to my friend and jewelry designer Rebecca Lien, she had a hard time believing that I was intending "punk" with these shoes.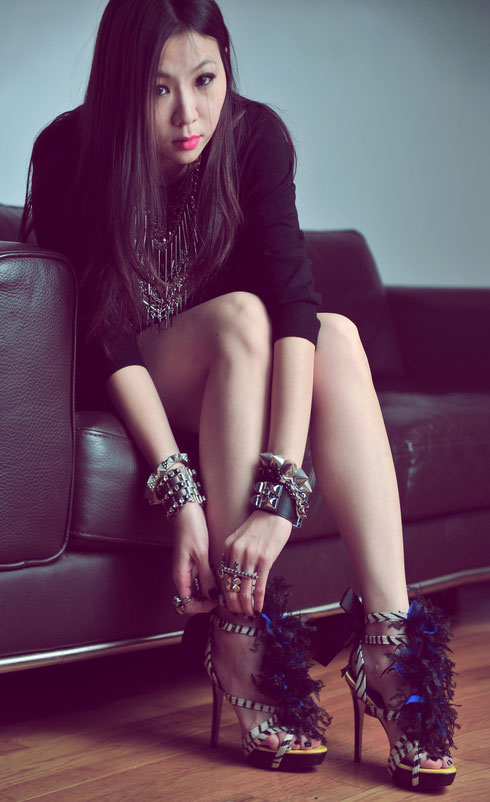 So, I asked her if we could do some more style shooting together to experiment with how to make my feminine creations more '80's glam punk.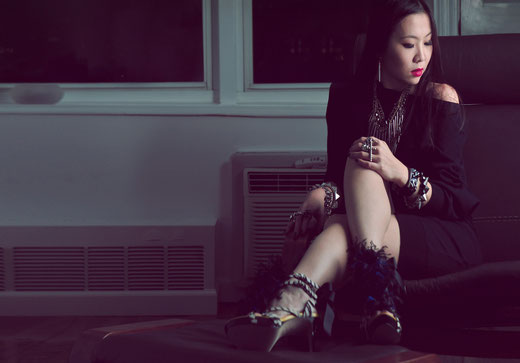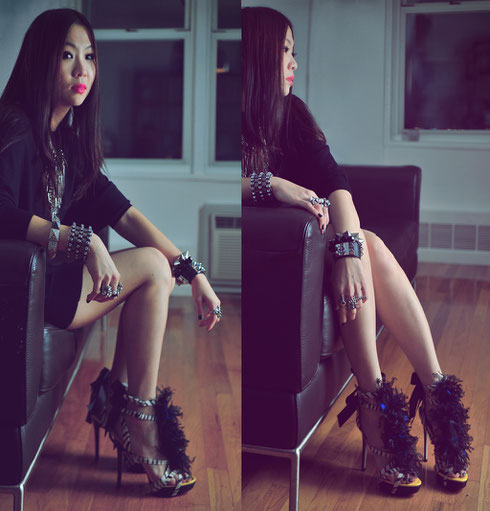 To bring out the edgy personality of "Tarantella," she added layers and layers of industrial jewelry. I love the look--excess without a sense of being overdone. Not exactly the Salvation Army couture of Madonna's 1980's! Not my original plan, no.  More cool, aloof and modern.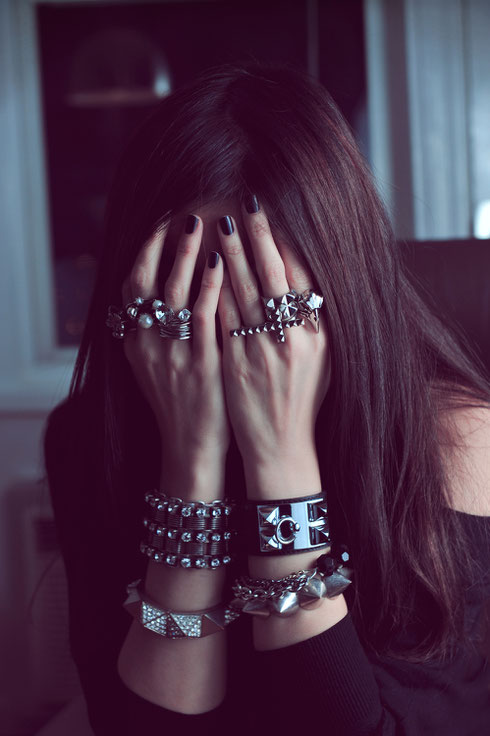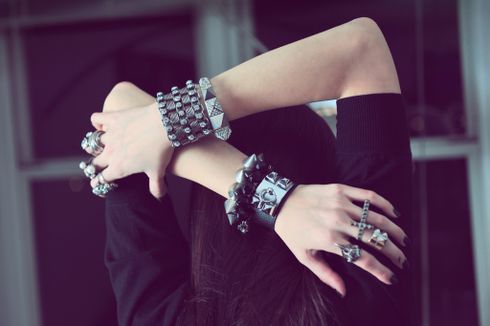 The look Rebecca styled for herself was a perfect balance of counter culture in Manhattan black, with a just a hint of girlish whimsy.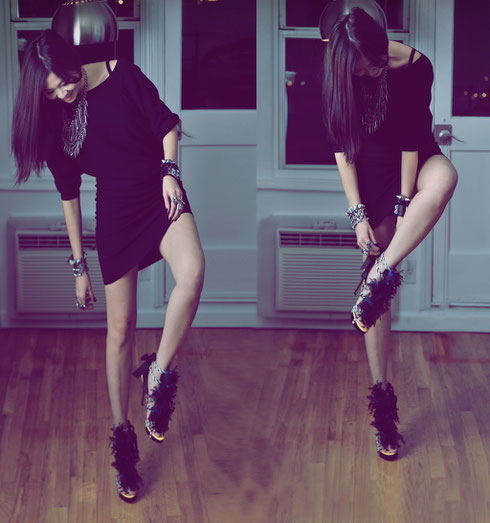 I think the look is sexy--in a worldly way. Kind of refined Gothic paired with the traditionally feminine. Sort of a Robert Palmer Addicted to Love glamor girl gone bad—circa 1986.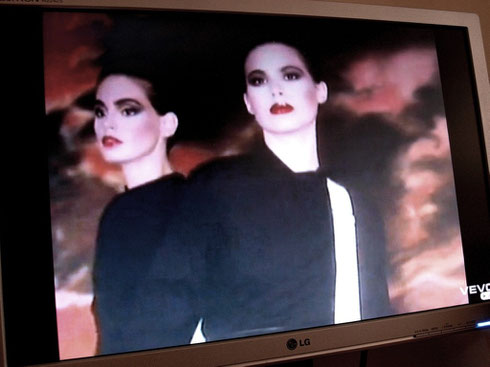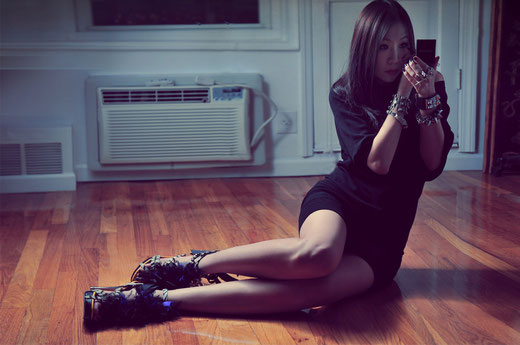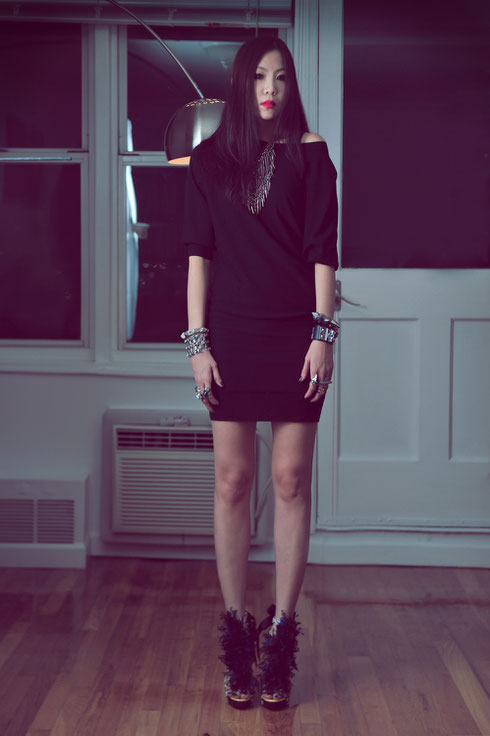 As always, Rebecca infuses a sense of sophistication in our style shooting sessions.  I enjoyed another opportunity to collaborate with her. Thanks also to Edwin, our photographer for humoring us. I am looking forward to more future photography sessions together and of course to sharing these with all of you!
Peace for now,
Zack Lo
Photography by Edwin
Model - Rebecca Lien 
Shoes by Zack Lo