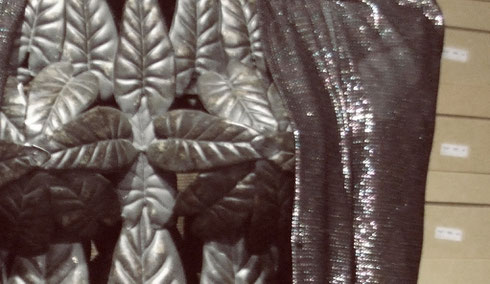 It all began with a late day phone call from a brand promoter overseas.  Could I custom design and deliver a pair of thigh high boots for a stage performance?  Yes. Could I work to enhance the client's performance persona and would I be open to collaboration in the process.  Yes.   Could I create a pair of tall boots that could transform on stage into a pair of high heels with a quick change?  I answered YES again, but with a pause.  I had never made anything with moving parts in this way before.  I had no idea just how to do that.  But where there is a will, there is a way to succeed.  I did not want to disappoint.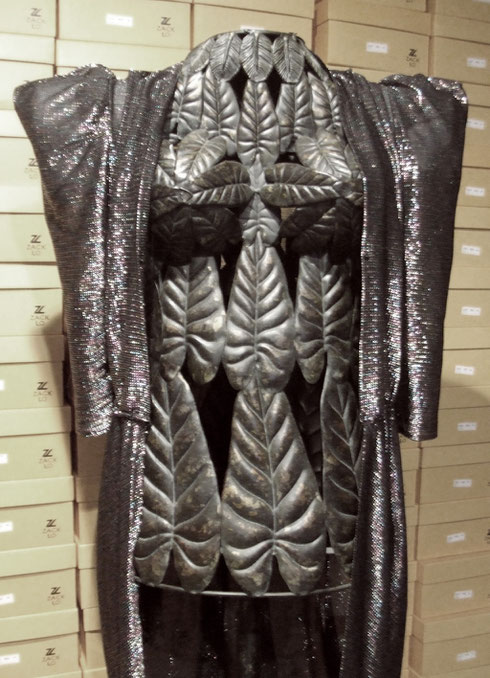 I asked for some background on the stage dress and had some photos and renderings sent to me.  I gave my input on the overall look, which I would characterize as "Disco Chic." I liked the concept put on the table, and was trying to envision how certain garments selected would work with my boot/shoe design.  The performer was very clear--something sexy and rather flashy, and something that played with male and female notions of fashion.  This was getting harder by the minute. I was beginning to understand that both the clothing and the shoes had to work in tandem.  Dress #1 was to be worn first with thigh high boots.  Then a "quick change" into something showing more skin and to be worn with just heels.
 
I thought about it all and offered to add some of the accessories from my new collection--since I thought they would fit in nicely.  Everyone seemed to like what I bringing to the table, and to my surprise, I was asked if I would be willing to take on the challenge of completely styling all aspects of the "quick change" looks.  That sent me out shopping in every thrift store I know.  I was searching for a vintage garment to use as inspiration.  I stumbled across a dress from the early 1980's with shoulder pads that would make Bob Mackie feel shy--a razzle dazzle number with draping fabric and a hand kerchief hem. Perfect.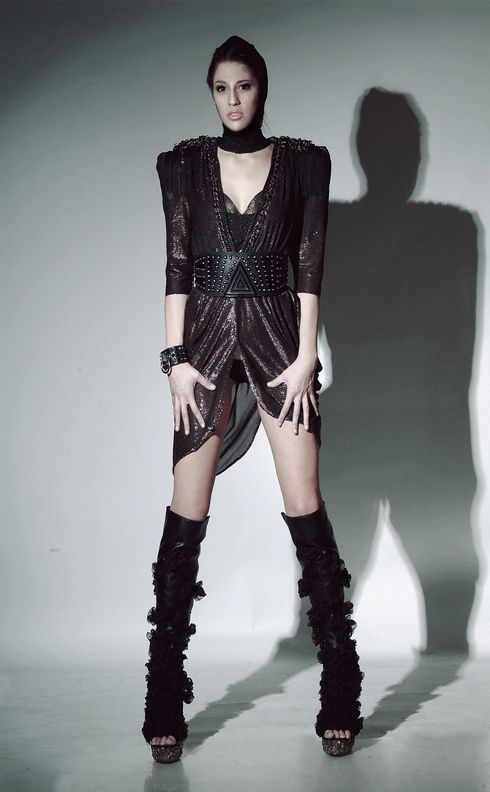 I was still a bit unsure about how "quick changes" work, so I asked my friend who has designed costumes for the NYC stage for twenty years to give me some advice. He showed me some examples from current stage popular music performers--cautioning me against terrible tragedies known as "wardrobe malfunctions."  Whatever moving parts I had to make for these boots/shoes and clothes, they needed to be tested again and again to make sure it all worked perfectly every time.  Wardrobe choreography!  I explained that this performer would be singing two songs, and was going to be slowly transforming on stage with these "quick changes" during their act. He said, "Sounds more like burlesque."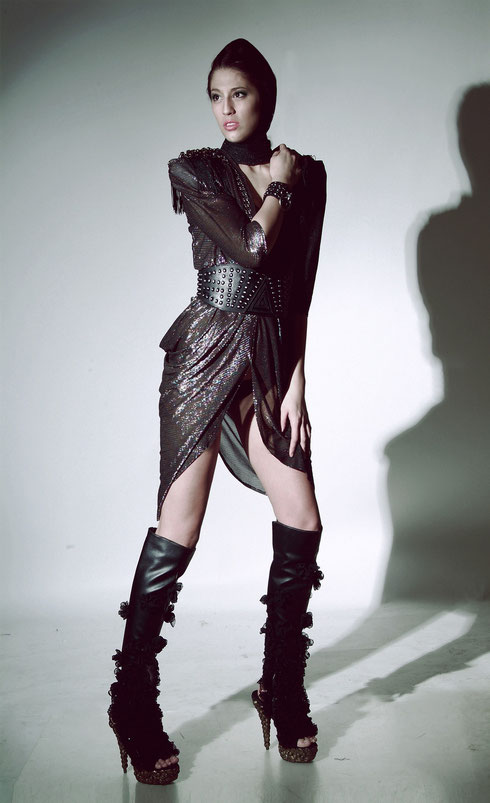 I had seen the Cher and Christina Aguliera movie, of course, so I sort of knew what he was talking about.  More research.  And he suggested I speak to another person we know who has danced professionally for many years.  Stage costumes for her were designed and by someone who worked directly with Edith Head in Hollywood in the 1950's—so they were amazing pieces.  Worn on stages across Europe, Asia and North America. As a performer, she had some expert advice to give me.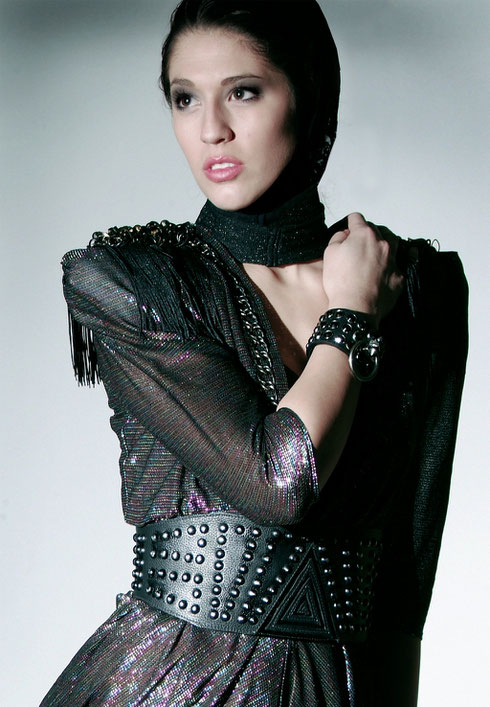 I asked a lot of questions about the shoes, but she kept coming back to clothing--saying that it was probably more of a challenge to a performer on stage to maneuver with the clothing than shoes.  How to slide out of sleeves during a dance move and look graceful.  How to unhinge and discard a belt with dramatic flair.  How to dance and sing and shimmy into the "quick change" with complete skill and look 100% natural doing so.  I had a lot to consider.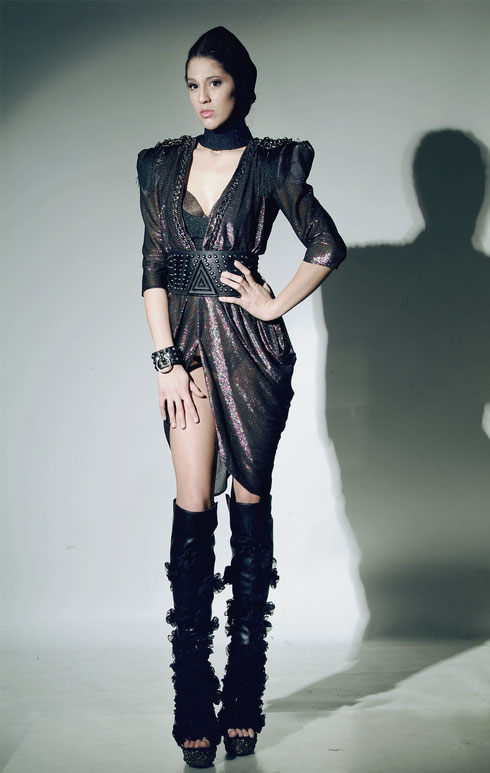 These comments were very helpful to me, and I showed her the dress I had selected as the base of Look #1.  "Will catch the light on stage," she said of the fabric, and proceeded to give me some words of wisdom on how to refashion my inspiration piece into something that would work effectively.
 
Next began my process of cutting open and reshaping the existing garment.  Adding embellishments and reworking some of the details to fit the bill. At the same time, progress on the clothing really started to inform my work with the shoes.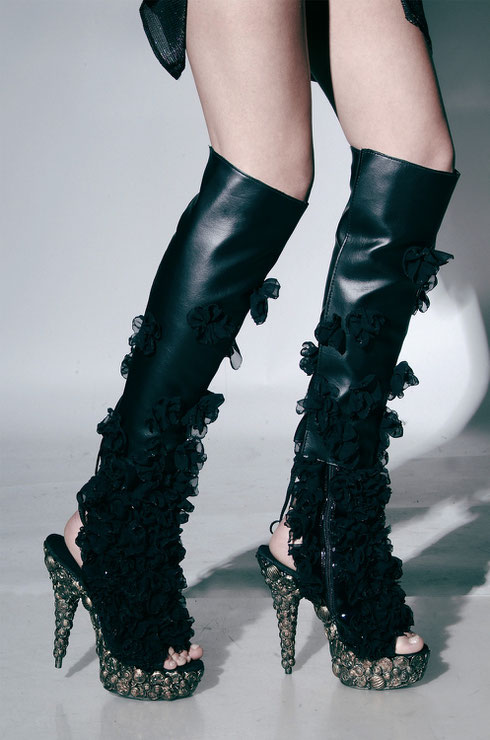 I came up with the idea of adding detachable chaps to a pair of lace up open toe heels.  In the same way the clothing gracefully opened to reveal another sexy costume beneath, so too the shoes had to perform an on stage striptease--in sync to dance moves and singing.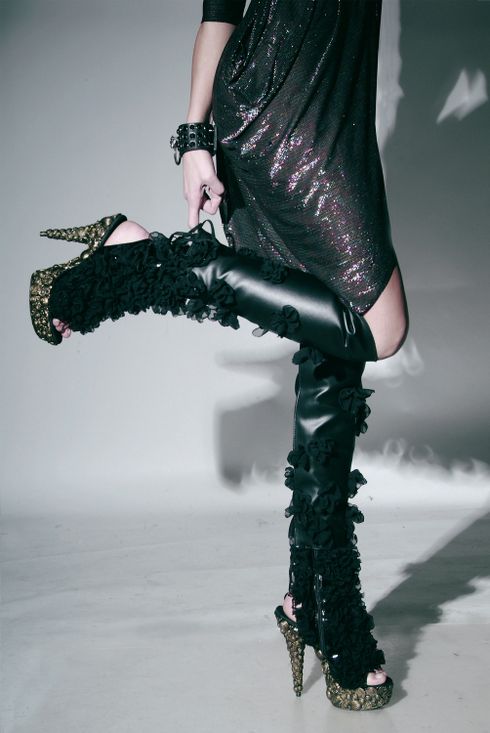 When I had figured out the two looks completely, I took it into the studio of photographing.  I always find this an important step--since I can see how my work looks on camera, and then naturally how it appears to other people's eyes in the audience, in the store, or from the runway.  We choose a model who was quite tall and roughly the same shape and dimension as the real performer.  
To the detachable chaps on the boots I added some stylized flowers as a female counterpoint.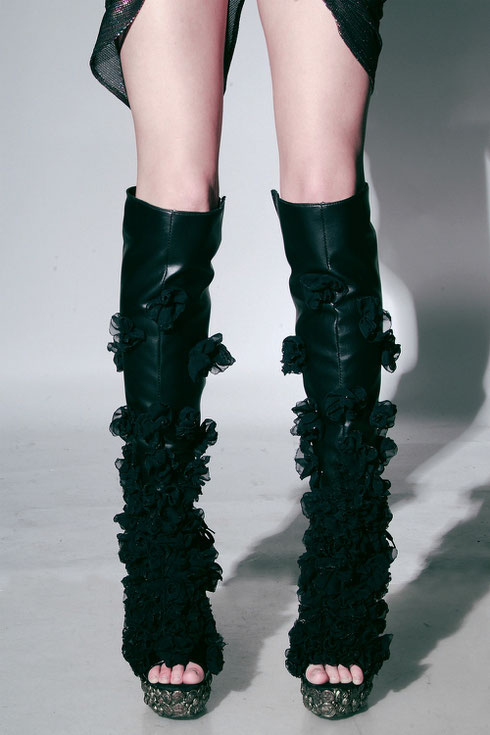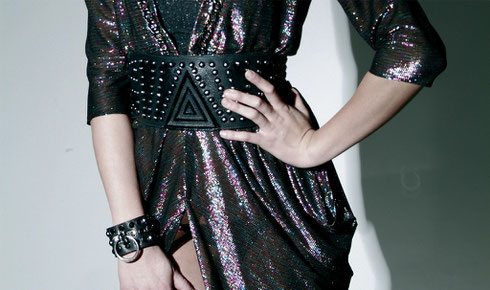 I added a wrestler like wide studded "weight belt" into the mix as a masculine element.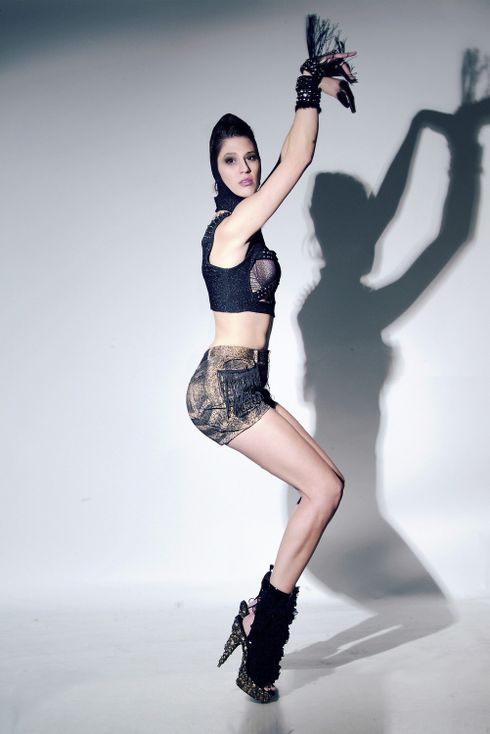 We worked out some of the moving pieces and costume choreography from Look #1 to Look #2.  I really liked the studded harness I created for the reveal.  Paired with a metallic fabric brassiere, it looked very rock and roll, especially with studded and distressed leopard print shorts.  I was afraid I was getting thematically distant from "Disco Chic," but I rather liked the way the second look showed a tougher and more street-ready character under the glam dress.  This seemed to fit with the information I was getting from the producer as to what the real performer was trying to do.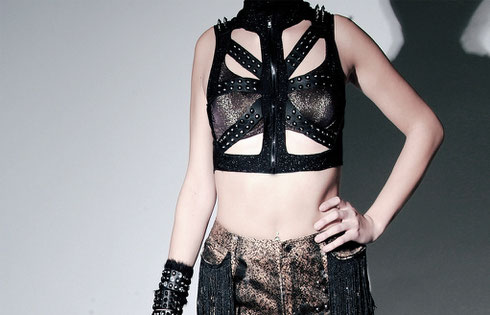 I got to see how my new leather cuffs with fur and studs looked!  Very cool, I thought.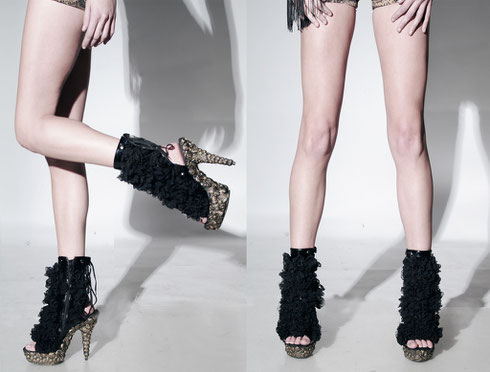 A week after I had shipped off the costumes and stage boots/heels—I got an excited call from the performer.  "Love, love LOVE what you made me Zack."  I was thrilled, to say the least.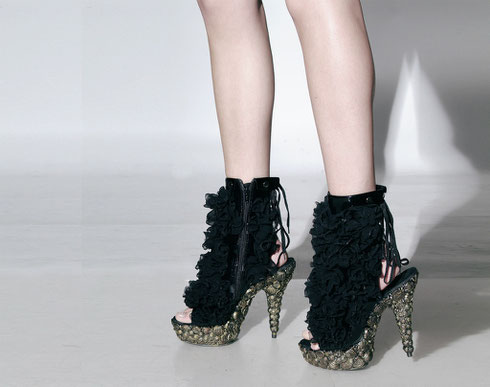 Looking back, this project was really challenging for me.  I really had to step into every aspect of what a performer goes through on stage and consider how what they are wearing must inform what they are doing and how they are doing it.  A very valuable lesson, and one I can take with me into all my design and creative work moving forward.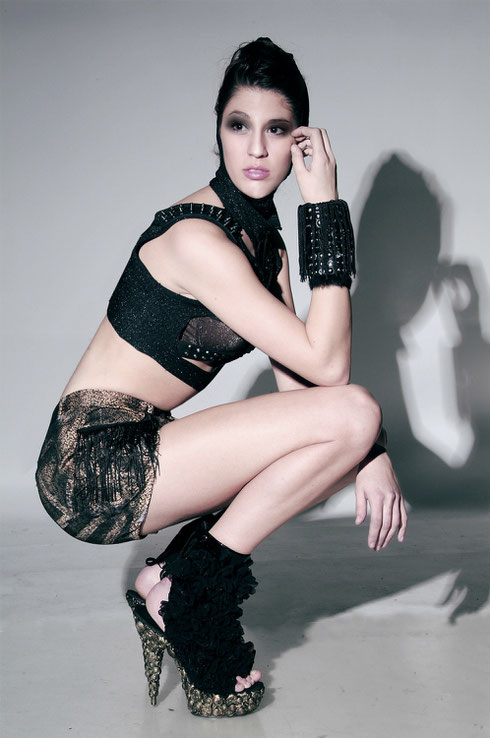 Maybe I will consider putting those detachable chap boots (or something like them) into production for new collections. Been getting some really good feedback from women who have seen them.  Seems like "quick changes" in life may be just the thing to spice up fall and winter wardrobes too.  
 
Without any wardrobe malfunctions I hope!
 
Thanks to again everyone at Safari Modeling and Photography, and especially to Brittanyy. who modeled for me.
 
Peace to all,
 
Zack
Photography by Safaripics
Model - Brittany Boisclair 
Styling and Redesign by Zack Lo 
Belt, Cuff and Footwear by Zack Lo