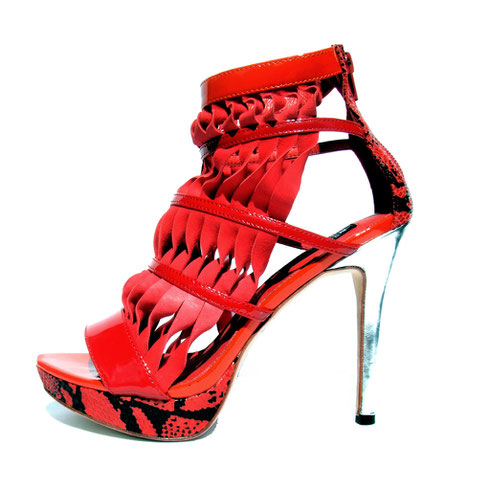 Style Shooting with Rebecca Lien (Part Two)
Red is an instantly dramatic color.  It is both powerful and seductive at the same time. It is as amorous as a valentine and as hot blooded as secret kisses on a summer night.  It says STOP all the while it means GO.  It is full throttle feminine. The red twisted leather band sandals called Ringmaster from my previous collection were an enormous hit—and a quick sell out. I learned a lot about what really sells. 


RED.  And the current controversy over red soled shoes from another famous designer of extroverted fashion footwear for women has also done much to call my attention to designing shoes at have all eyes "seeing
red."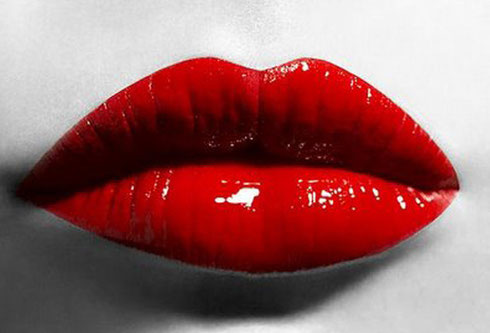 This photograph of delightfully red lips has been on my mood board for a while.  When I look at it, I imagine what the woman is feeling and thinking with such a sexy mouth!  She could be a beautiful geisha from long ago Japan.  She could be a painted and powdered lady from the luxurious court of Louis the Fourteenth of France.  Or she could be modern woman full of self control and urban mystique.
I really love the feeling of excess conveyed in just a simple photo of red lips.  It just has immediacy about it.  Like something is just about to happen--at any given second.  A conquest.  A charm.  Crossing over the edge of a danger zone, and laughing.  Or smiling.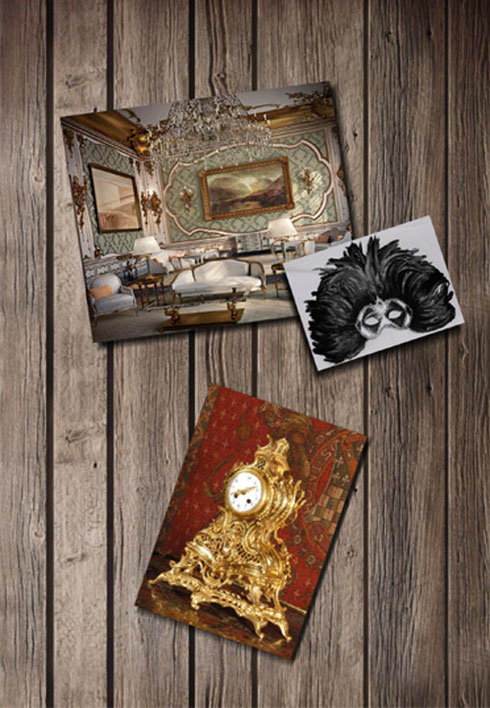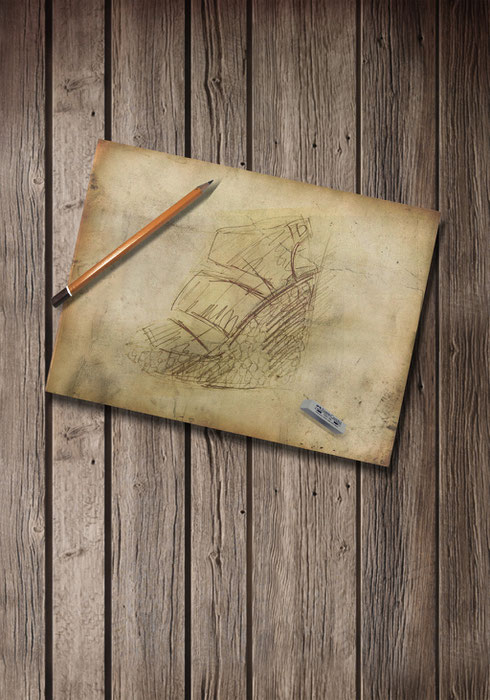 So my drawing for a shoe that came to be called Virago Red Flame Platform Sandal came out of me and at the same design period as my Fortuna feather and gold armor clad pumps featured in my previous blog. The result of my "seeing red" in this shoe produced something completely different.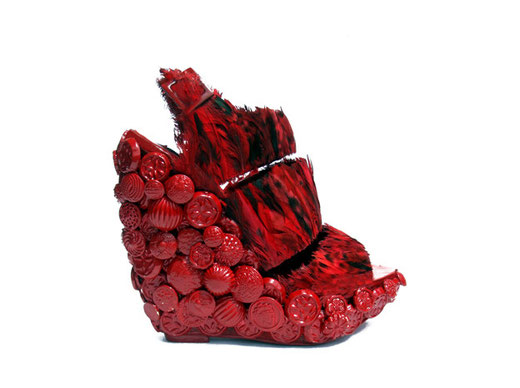 A Rococo love of shell like curves, repeated over and over. An intense focus on the structural and decorative aspects to make a strong impression.  And the appliqué feathers to soften and add whimsy to the [overstated?] excess of luxury.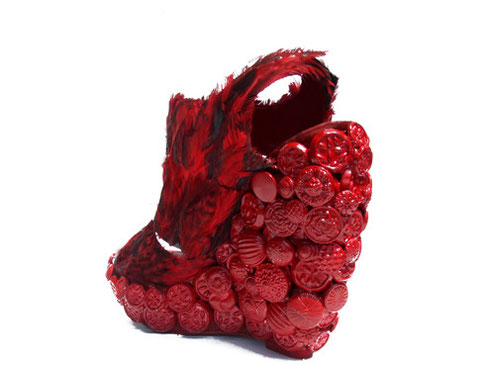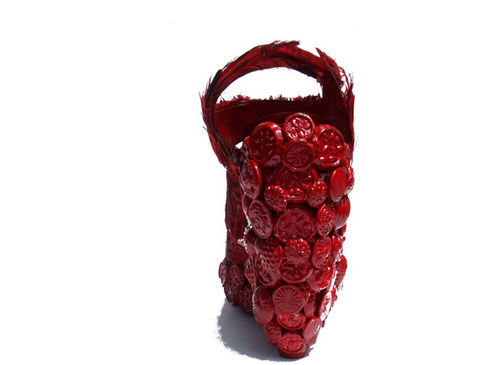 I shared my first samples of this shoe with Rebecca and she really liked the look of the shoe.  When I was ready to test run it in front the camera, she was happy to oblige.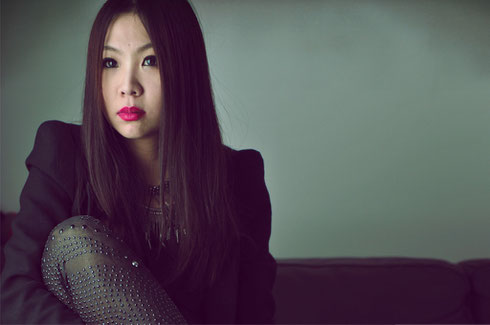 We decided that basic black would work as a great back drop for the shoes. RED shoes and RED lips.  Edwin our photographer has great fun shooting for us in Rebecca's loft.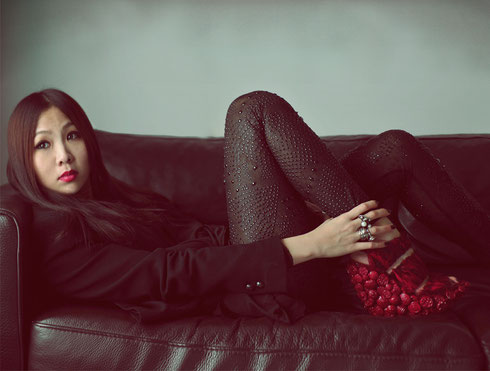 It was interesting to see that the more Rebecca tried to relax her pose, the stronger the attitude in the shoes seemed to be. I think it was so interesting how Edwin kept focusing on just one shoe in the frame.  It seemed like love embrace between the shoe and the woman wearing it. A romantic liaison of sorts.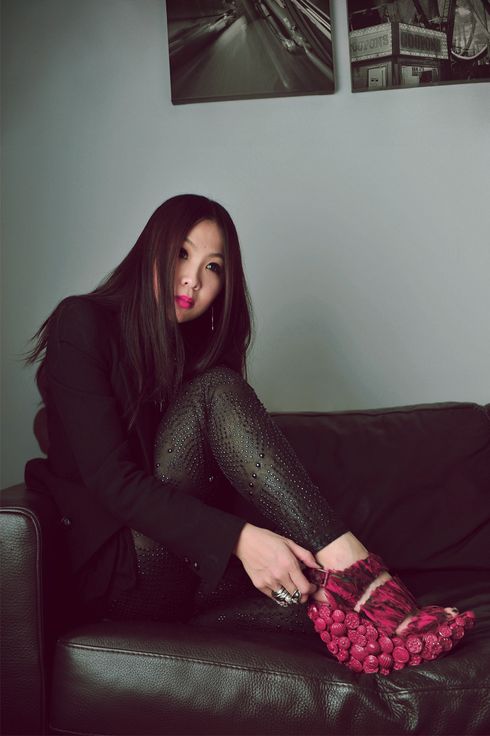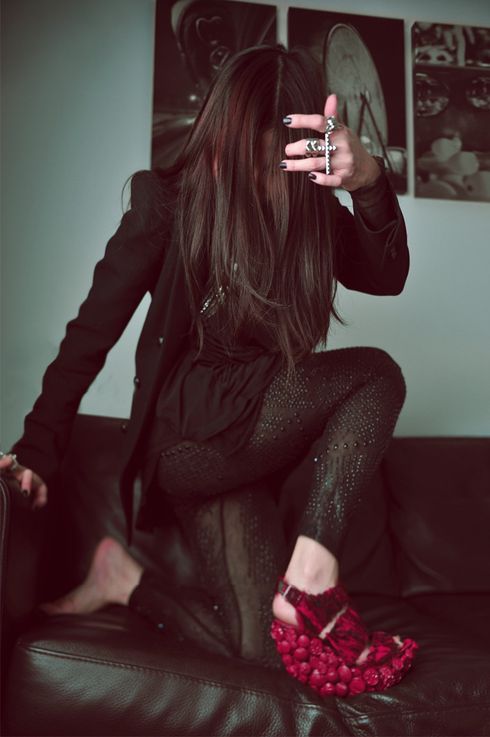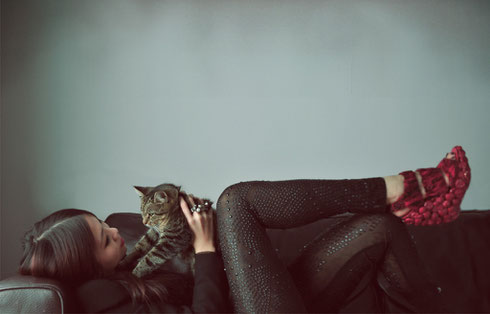 Fortunately, Rebecca's jealous cat got in on the action to break things up.   But he soon lost interest, and it was back to shooting more of our "love affair" with my new red shoes.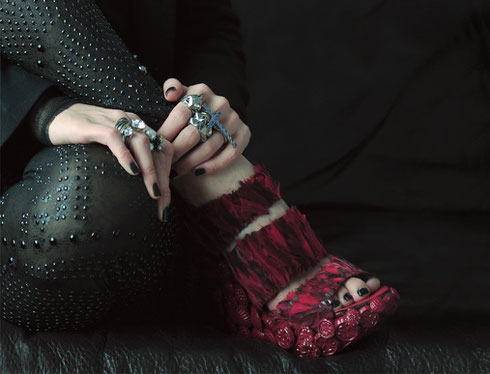 Many thanks to both Rebecca and Edwin for indulging me once again, and bringing my work into photographs.  I love the look we created, and it was marvelous fun [as always] styling up and trying to bring the character of my shoes to life.  For more about Rebecca and her own dynamic sense of style, please visit her blog at http://fashioninfusion.blogspot.com/.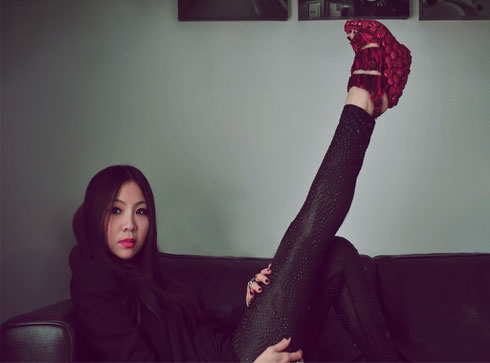 Peace to all,

Zack Lo
Photography by Edwin
Model - Rebecca Lien 
Shoes by Zack Lo